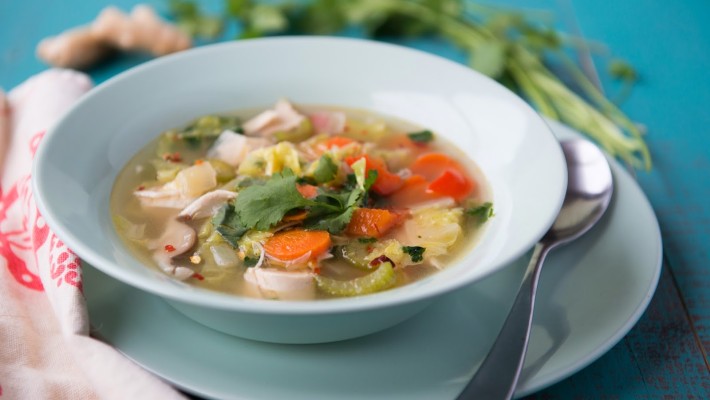 Immune Boosting Soup Recipe
Fall and winter is the best time to enjoy hearty, home-cooked soups. And what could be better than a soup that will help boost your immune system to fight off all those nasty colds and flus going around.
This is a recipe I was given by my botanical medicine professor early in naturopathic medical school, and I've made it several times a year ever since. I like to make a big batch and freeze it – when you're sick at home, laid out on the couch, the last thing you feel like doing is making food for yourself. My favourite tip for freezing soups (courtesy of Jamie Lee Curtis in Good Housekeeping): get large, heavy duty recloseable freezer bags (ie Ziploc), measure 2-4 servings into each (after you've let your soup cool), and lay each one flat on a cookie sheet in your freezer until frozen, making them easy to stack. I have a milk crate in the bottom of my chest freezer where I have my various soups lined up like vinyl records, making them easy to find when I need them. Remember to date each bag so you know which ones to use first!
Some of the herbs listed in the immune stock are easier to find than others. Here in Vancouver, most of the should be available at Gaia Garden (2672 W. Broadway) or Finlandia Natural Pharmacy (1111 W. Broadway). Reishi and shiitake mushrooms might be sourced in Chinatown (Beijing Trading Company – 89 E. Pender St.) or purchased online. Enjoy!
Immune-Building Soup Recipe
2 L Immune Stock (see recipe below)
1 c onion, chopped
2 tbsp olive oil
3-4 c chopped vegetables (anything: celery, carrots, cabbage, parsnips, turnips, rutabaga, green beans, peas, etc)
1-2 potatoes, chopped
2 c. chopped greens (spinach, kale, chard)
1/2 c parsley, chopped
*6-10 shiitake mushrooms, chopped fine. (If using dried shiitake, reconstitute them ahead of time in water, saving the water to use in the soup)
*4-10 cloves crushed garlic
*2-3 inch fresh grated ginger
*1 tsp each dried thyme, oregano and/or rosemary
*1/2 tsp dried sage
*1 tsp turmeric powder
Salt, black pepper, to taste
Extra water as needed
(Try not to change the ingredients marked with an asterisk above: they're also medicinal ones)
Saute onions in oil until transparent, then add mushrooms, then other slowest cooking vegetables. Add stock, bring to a boil, then reduce to simmer. Add herbs, seasonings, garlic, ginger and other vegetables, saving fresh greens until 5 minutes before the end.
(Try to keep lid on as much as possible to retain the essential oils in the herbs, garlic and ginger; don't want them evaporating away!)
Immune Stock Recipe
2 L water or stock (vegetable or chicken)
3-5 sticks (or handful of finely chopped) dried astragalus root (Astragalus membranaceous)
1 handful dried burdock root (Arctium lappa)
1 handful dried dandelion root (Taraxacum officianalis)
1 slice dried dong quai (Angelica sinensis)
1-2 stalks dried lovage (Levisticum officinalis)
1/2 handful reishi mushrooms (Ganoderma lucidum)
Bring liquid to a boil and simmer with herbs for 15-30 min. Strain. I usually take the larger things out – astragalus, lovage, reishi – drain the rest – and put the large pieces back into the soup so you get more out of them. They are big enough that you can pick them out of the soup when it's done.
For more information on how to boost your immune system or book an appointment to prepare for fall and flu season contact Yaletown Naturopathic Clinic at  info@yaletownnaturopathic.com.