Community/Group Acupuncture Now Available!
Next community acupuncture session:
Tuesday, July 12 from 5:00PM to 8:00PM
Wednesday, July 27 from 5:00PM to 8:00PM
Tuesday, August 9 from 5:00PM to 8:00PM
Tuesday, August 30 from 5:00PM to 8:00PM
Tuesday, September 13 from  5:00PM to 8:00PM
Contact us at  info@yaletownnaturopathic.com to book your session today.
We are very excited to announce that we are now offering group acupuncture sessions! The same effective acupuncture treatment for half the price (if you prepay for your session in advance)! Feel free to bring your family members or friends whether they are a patient of the clinic or not, walk-ins are welcome. Continue reading for more information about our new service:
Acupuncture has been proven to be an effective treatment for many different health issues, pain management and a variety of chronic diseases. Here at Yaletown Naturopathic Clinic we are always looking for ways to give back to the community and believe that treatment should be made accessible to everyone which is why we offer community acupuncture.
The major elements of the community-style model are that it offers individual treatments in a comfortable, healing, group setting, and it offers those treatments at an affordable price. We think that's a great approach to the well-being of our local community!
What is Community Acupuncture?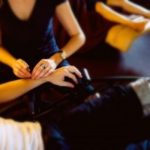 This inclusive model of treatment involves individualized treatment in a shared space. Meaning your treatment will be tailored specifically to meet your personal health goals and will take place in a calm and relaxing group environment of up to four people. This allows us to offer more affordable treatment to our patients. Come spend time in our tranquil clinic and allow our experienced Naturopathic Physicians or Registered Acupuncturist attend to your wellness needs.
What can acupuncture treat? 
Here are some of the conditions that are commonly treated with acupuncture:
headaches and migraines
acute and chronic neck and back pain
acute and chronic joint pain
autoimmune diseases such as arthritis
facial pain (trigeminal neuralgia, TMJ disorders)
IBS, abdominal pain, abdominal, bloating
sleep issues/insomnia/improve quality of sleep
allergies, ulcers
stress
depression
PMS symptoms such as bloating, cramping, mood swings, irregular, heavy or painful menstruation
infertility
high blood pressure
side-effects of chemotherapy
pregnancy symptoms such as morning sickness, hip pain, sciatica
addiction withdrawal and recovery, smoking cessation
Cosmetic and anti-aging acupuncture available
How much does community Acupuncture cost?
Each session will be 30 minutes and the cost will be $50 per session if you prepay at time of booking.
Walk-ins are welcome, the cost is $60 for drop ins with no pre-booking. If you would like to pre-purchase a package of 5 sessions in advance for $225 you will gain an additional saving and your cost works out at $45 per 30 minute session.
What can I expect at a community acupuncture appointment?
You can expect a quiet, calm and relaxing healing environment where one can focus on their own healing. There will only be a maximum of four people per room so you and three others at most.
Can I bring family members or friends who I feel would benefit from acupuncture who are not patients of the clinic?
Absolutely! If you or family and friends are not already patients of the clinic but would like to take part in community acupuncture at Yaletown Naturopathic – it's easy! You simply need to complete a brief first time consult with one of our Naturopathic Doctors before your acupuncture session. This consult allows your doctor to pinpoint your precise health concerns and come up with an acupuncture plan that will help you get the most from your session.
This acupuncture consult will cost $40 for all first time, non-existing patients of the clinic.
Does acupuncture hurt?
No. Acupuncture does not have to hurt. Some patients will feel a slight pinch when the small needle goes in but many can't feel them at all. Acupuncture needles are very small, fine and flexible, not the same needles you would use for anything else. But these small needles will have a very powerful effect!
What should I wear to a community acupuncture session?
Because it is a shared space you will not be gowned or need to remove any large pieces of clothing. Please wear loose, comfortable clothing that can be easily rolled up on your legs and arms.
Do acupuncturist use disposable needles?
Yes, we use disposable needles. No needles are ever reused. The needles come to us sterilized, we use them once and dispose of them in an approved sharps container.
Can I address more than one health issue at a time with acupuncture?
Yes! Acupuncture can help reset your body to find a new equilibrium. Because the systems in our body are so interrelated (nervous system, muscular, pain, hormonal, digestion etc.) many patients report that treating one issue leads to resolving another which they thought was unrelated. I would say that's the best side effect I've ever heard of!
Acupuncture has been shown to increase relaxation, reduce stress and improve sleep.
Can I receive acupuncture if I am pregnant?
Yes! We often receive referrals from midwives, obstetricians and chiropractors because acupuncture is an effective treatment for pregnancy-related symptoms such as morning sickness, back and hip pain and sciatica.
Do you treat children?

Yes! As we all know children can be more sensitive but this often results in responding more quickly to treatments than adult patients. If you would like to bring a child to experience community acupuncture we will require any patient under 16 to have a signed consent from a parent or guardian and for the parent or guardian to be present for the first treatment.
If you have any questions about community acupuncture feel free to contact us at info@yaletownnaturopathic.com. Get well, stay well.