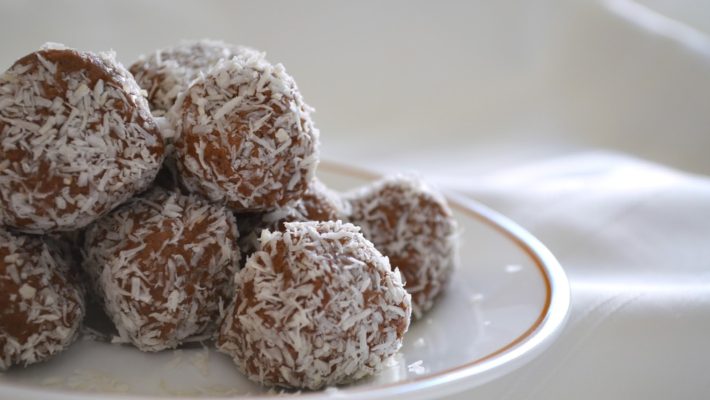 Chewy Chocolate Treats
Chewy Chocolate Protein Treats! 
Makes approximately 15 treats
These deliciously chocolatey snacks are high in protein and free from processed sugar (provided you are careful with your raw ingredients). They're great as a protein boost or a sweet treat that's not too sinful. This recipe is so versatile and you can easily amend it to suit your own tastes. Add in hemp hearts or different chopped dried fruit and nuts, use a different nut butter.

 

For the dry ingredients you can use ground almonds, oats or coconut flour. You can even add whole oats or seeds like chia seeds which will change the consistency to make bars. Freeze them and have them on standby for those days when you just need a hit of chocolate!
250g of pitted dates

2.5 tablespoons of almond butter

2-3 scoops of protein powder

1/2 ground flaxseed

1 tablespoon of cocoa

2/3 cup of unsweetened dried coconut

1/2 teaspoon of cinnamon
Soak the dates in hot water to soften them for a minimum of 1 hour but longer the better.
Drain off excess water but keep the water just in case you want to add some back in later.
Place the dates in a food processor and blitz until smooth. Add all the other ingredients and blend until well combined.
You want the mixture to be a smooth paste but not too wet. You can add more of the dry ingredients or some of the water from the dates as necessary to get the right consistency.
Once blended you can use a spoon or your hands to shape the mixture into balls.
Place them on a non stick surface and refrigerate or if you like them a little more firm you can freeze them.
If you want to get fancy and serve these as a dessert you can roll the balls in some more coconut or nuts to coat the outside and decorate them as you like. Go ahead and get creative! Enjoy!