Nourishing Meals: Educational Guide and Cookbook Available for Purchase!
Looking for gift ideas? Nourishing Meals is now available for purchase at Yaletown Naturopathic Clinic! With so many patients learning about their new food allergies they can become overwhelmed with the sudden changes in their diet. This book is not only a recipe book it is an educational guide for patients needing to eliminate certain foods from their daily diet. The first portion of the book covers topics such as:
Importance of whole foods
Differences between organic and inorganic
What is gluten
Symptoms of gluten intolerance
Nutrient deficiencies
Causes of food allergy or sensitivities
Chronic inflammation
Leaky gut
Imbalanced gut microflora
Alternatives to refined sugar
10 steps to creating balanced meals
7 ways to help your child thrive
Introducing smoothies to children
and many more educational chapters! Great gift idea for anyone who is looking to make a positive change in their diet and lifestyle!
The book can be purchased at the clinic or through the online bookstore.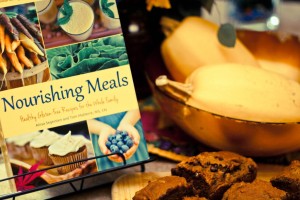 Publishers book description:
Nourishing Meals is geared towards raising healthy children from pre-conception onwards. This cookbook and guidebook provides over 300 healthy gluten-free recipes and current research to support your family in health and wellness. With autism rates rising, childhood obesity at an all-time high, and the ever-increasing rate of food allergies, we asked the question: How can we raise our children in the current environment so they can not only survive, but THRIVE?
Recipes Include: Apple Cider Baked Beans, Spicy Lentils and Rice in Cabbage Leaves, Grain-Free Chicken Nuggets, Apricot Glazed Chicken, Zucchini Lasagna with Pine Nut Ricotta, Quinoa Tabouli, Coconut Brown Rice, Chicken and Chard Chili, Hot and Sour Soup, Cream of Broccoli Soup, Raw Breakfast Tacos, Baby Green Smoothie, Blueberry Cherry Smoothie, Kale and Egg Scramble, Coconut Banana Breakfast Cake, Sourdough Buckwheat Crepes, Homemade Gluten-Free Tortillas, Coconut Flour Biscuits, Yeast-Free Seed Bread, Everyday Sandwich Bread, Kale Apple Walnut Salad, Picnic Coleslaw, Pecan Crusted Chicken and Apple Salad, Smoked Salmon Salad with Honey Mustard Vinaigrette, Creamed Kale, Rutabaga Fries, Berry Parfaits with Orange Cashew Cream, Mint Chocolate Chip Ice Cream, Vegan Maple Pecan Pie, Grain-Free Vegan Chocolate Sunbutter Cookies, Grain-Free Carrot Spice Cupcakes with Coconut Buttercream Frosting, Oat-Free Fruit Crisps, Homemade Coconut Kefir, Lacto-Fermented Dilly Radishes, Vanilla Plum Butter, Kale-Herb Seaweed Sprinkle….and so much more!