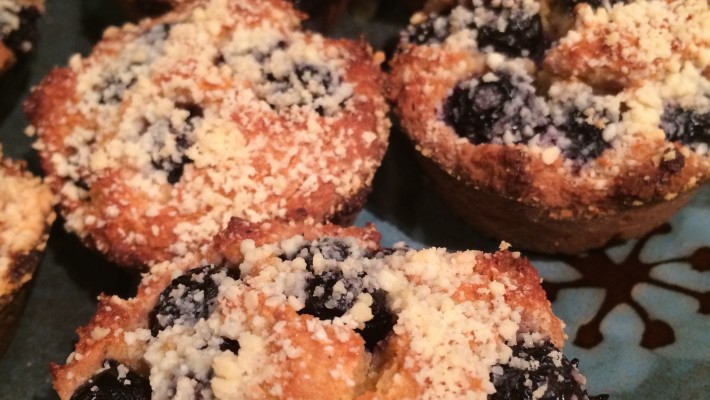 Grain-free Blueberry Crumb Muffins
These tasty treats are a favourite in my house, especially when freshly baked and warm! They are paleo friendly, grain-free and oh so satisfying. 
Ingredients
2 cups almond flour 

(divided)

1/2 cup coconut flour

6 eggs 

(preferably pasture-raised)

1/2 cup honey

3/4 teaspoon vanilla

1/2 teaspoon unrefined sea salt

1 cup blueberries

1 tablespoon butter 

 coconut oil or butter 

(to grease muffin pan)
Instructions
Preheat oven to 350 degrees Fahrenheit. Grease large 6-8 muffin cups with coconut oil or butter.

Set aside 2 tablespoons of almond flour. In a mixing bowl or food processor combine remaining 2 cups almond flour, coconut flour, and salt.

In a separate bowl whisk together eggs, honey and vanilla, then add to dry ingredients and blend thoroughly. Gently fold in blueberries, then pour batter into 6-8 large cups. Pat tops down into rounded heaps and use a brush to dab with with butter. Sprinkle with remaining almond flour for a pretty finish. Bake for 30-40 minutes. The top should be springy yet firm when they're ready.
The original recipe can be found at nourishedkitchen.com
Questions about eating real and eating right for your unique health? Contact us at the Yaletown Naturopathic Clinic at 604-235-8068 or info@yaletownnaturopathic.com
Enjoy!