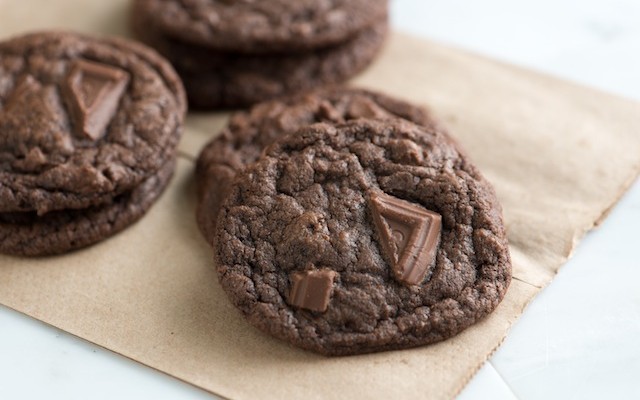 The Somewhat Healthy Chewy Double Chocolate Chip Cookie Recipe
These cookies are gluten-free, grain-free, vegan and extremely delicious! As with all baking, the higher the quality of the raw ingredients the better the finished product. You can adapt this recipe to include dried fruit or some chopped nuts and leave out the cocoa if you prefer a regular chocolate chip cookie.
Double Chocolate Chip Cookies Recipe:
1 cup of Almond butter/Peanut butter
1/3 cup of brown sugar
Flax eggs (two tablespoons of ground flaxseed and 4 tablespoons water mixed together and let sit for 1 min)
1/2 cup dark chocolate chips
1 teaspoon baking powder
2 tablespoons cocoa powder
Turn your oven to 350F to preheat. If your cookie sheets are not non-stick then cover with parchment paper.
Place all your ingredients except the chocolate chips in a large bowl. Combine ingredients using a large wooden spoon. Add chocolate chips and fold into dough so they are evenly distributed.
Shape the dough into small balls about the size of a ping pong ball and place onto your baking tray. Press them down so they are slightly flat – no need to squash them completely. Remember they will expand in the oven so leave adequate space between each one.
Bake for 10-15 minutes depending on your oven. When they come out of the oven they are still quite delicate so allow them to cool on the baking tray for about 5-10 minutes. Transfer them to a wire cooling rack to cool or serve them while they are still slightly warm.